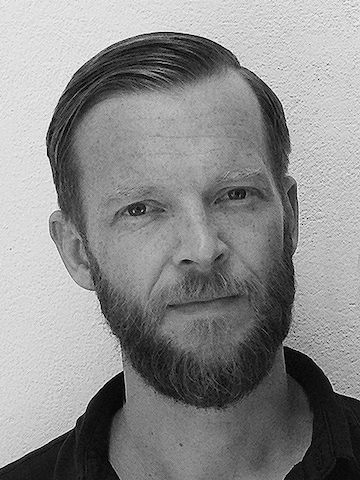 Dennis P PAUL (Bremen, 1974*) works as an interaction designer and new media artist, lives in Bremen and holds a professorship for Interaktion und Raum in the Digitale Medien Program at Hochschule für Künste Bremen. He was the co-founder of the Berlin-based studio for spatial, media-related design The Product.
In his work he is concerned with the interaction between humans and technology and the relationship between the conceptual, the virtual, the immaterial, and the physical. His works frequently take the form of installations in public spaces, physical interfaces, and generative systems. With great interest he is researching the communicative, playful, narrative, and critical qualities of new and digital media. He strongly believes that technology must be something warm, inclusive and emotional. His work has been exhibited internationally and has received various renown awards.
Dennis P PAUL (Bremen, 1974*) arbeitet als Interaction Designer und freischaffender Neue Medien Künstler, lebt in Bremen und hält dort eine Professur für Interaktion und Raum im Digitale Medien Programm an der Hochschule für Künste Bremen. Er war Mitbegründer von The Product einem berliner Studio für räumlich-mediale Gestaltung.
In seiner Arbeit befasst er sich mit der Interaktion zwischen Menschen und Maschinen und deren Beziehung zum Konzeptuellen, Virtuellen, Immateriellen und Physischen. Seine Arbeiten erscheinen oft als Installationen im öffentlich Raum, als physische Interfaces und generativen Systeme. Mit besonderem Interesse untersucht er Neue und Digitale Medien auf ihre kommunikativen, spielerischen, narrativen und kritischen Qualitäten. Er glaubt fest daran, dass Technologie etwas warmes und emotionales sein muss. Seine Arbeiten wurden international ausgestellt und erhielten diverse namenhafte Preise.
| | |
| --- | --- |
| 2010 | Professor for Interaktion und Raum in the Digitale Medien Program at Hochschule für Künste Bremen |
| 2008 | Founder of The Product Studio for spatial, media-related Design, Berlin |
| 2004 – 2007 | Lecturer in Digitale Klasse at Universität der Künste Berlin |
| 2003 – 2008 | Designer at Art+Com, Berlin |
| 2003 | Diploma with Professor Joachim Sauter in Digitale Klasse at Universität der Künste Berlin |
| 2000 – 2003 | Student of Visuelle Kommunikation at Universität der Künste Berlin |
| 1998 – 2000 | Student of Visuelle Kommunikation at Fachhochschule Hannover |
| 1998 | Internship at Gruppe für Gestaltung, Bremen |
| 1997 | Internship at Atelier Brückner, Bremen |
| 1974        | Born in Bremen |
Selected Exhibitions + Projects + Publications
| | |
| --- | --- |
| 2022 | Klangstrom infrastructure to facilitate generative, networked, embedded sound + music + composition |
| 2021 | Wellen framework for exploring and teaching generative music making and algorithmic compositions |
| 2021 | Teilchen physics library based on particles, forces, constraints and behaviors |
| 2018 | An Instrument for the Sonification of Everyday Things |
|   | Exhibition, [LAUT] DIE WELT HÖREN at Humboldt-Box, Berlin, Germany |
| 2017 – | Salon Digital – Spektakel: Reenactments in Kunst, Gestaltung, Wissenschaft und Technologie |
|   | Lecture Series, organized by Andrea Sick + Ralf Baecker + Dennis Paul |
| 2016 | An Instrument for the Sonification of Everyday Things |
|   | Performance, Nuit Numerique #13 at Saint-Ex, Reims, France |
| 2015 | Nullstecker |
|   | Exhibition, Critical Make at Haus der elektronischen Künste, Basel, Switzerland |
|   | Automatic Orchestra |
|   | ( in collaboration with Jakob Bak and students Angelisa Scalera, David Beermann, Hendrik Heuer, Irena Kukric, Julian Hespenheide, Thomas Hoheisel ) |
|   | Installation, Resonate 2015, Belgrad, Serbia |
| 2014 | An Instrument for the Sonification of Everyday Things |
|   | Exhibition, KIKK festival 2014, Namur, Belgium |
|   | Exhibition, alt_cph 2014, Copenhagen, Denmark ( in collaboration with Science Friction ) |
| 2013 | Nullstecker |
|   | Exhibition, Art Hack Day Going Dark, Lab for Electronic Arts and Performance, Berlin |
|   | Rauchwolken und Luftschlösser. Temporäre Räume |
|   | Publication, Rauchwolken und Luftschlösser. Temporäre Räume published by Andrea Sick + Dennis Paul. Textem Verlag, Hamburg 12.2013, 280 pages, 30 contributions |
|   | Curratorial Work, Exhibition, GAK Bremen |
| 2012 | Symposion + Workshop, HfK Bremen |
|   | An Instrument for the Sonification of Everyday Things |
|   | Lecture Performance, John Cage - Ein Tag in der Hochschule für Künste Bremen |
| 2011 | Game Milestones |
|   | Installation, Permanent Exhibition, Computerspielmuseum, Berlin |
| 2010 | Sol |
|   | Installation, Exhibition, Here Comes the Sun, Kindermuseum, Berlin |
|   | Leave-A-Comment-Toolkit |
|   | Group Exhibition, Locate Me, Bethanien Kunstraum Kreuzberg, Berlin |
|   | The Turtle Two |
|   | Exhibition, Beck s Gold Urban Experience, Berlin + Hamburg + München |
|   | Die Pendel |
|   | Installation, Permanent Exhibition, Otto Bock Science Center, Berlin |
|   | Snow Play |
|   | Installation, C-Base, Transmediale 2010, Berlin |
| 2009 | Die Quelle |
|   | Installation, Permant Exhibition, Level Green, VW Autostadt Konzernforum, Wolfsburg |
|   | Schau Mal: Die Ladestrasse Entdecken |
|   | Temporary Exhibition, Deutsches Technikmuseum Berlin |
| 2008 | Spheres ( aka Centralspace ) |
|   | Installation, Permanent Exhibition, BMW Museum, München |
|   | Tennisfreunde Berliin e.V. |
|   | Performance in the streets of Vilnius, Lithuania |
| 2007 | Performance, Rodeo Club, Berlin |
|   | Tree of Life |
|   | Exhibition, Museum für Naturkunde, Berlin |
| 2006 | Heimat und Exil |
|   | Exhibition, Jüdisches Museum Berlin |
|   | Exhibition, Haus der Geschichte, Bonn |
|   | Exhibition, Zeitgeschichtlichen Forum, Leipzig |
|   | The Settlement Exhibition |
|   | Permanent Exhibition, City Museum Reykjavik, Island |
|   | documenta mobil |
|   | Exhibition, documenta Archiv, Kassel |
|   | The Science of Aliens |
|   | Exhibition, Thinktank, Birmingham, UK |
|   | Exhibition, Cité des Sciences et de l'Industrie, Paris, Frankreich |
|   | Exhibition, Museum of Science, Miami, USA |
| 2005 | Exhibition, Science Museum London, UK |
|   | Das neue Österreich |
|   | Exhibition, Schloss Belvedere, Vienna, Austria |
| 2004 | Simthing |
|   | Exhibition, Ars Electronica Festival, Linz, Austria |
|   | Exhibition, DorkBot Berlin |
|   | Floating.Numbers |
|   | Exhibition, National Museum of Art, Taichung, Taiwan |
|   | Exhibition, Jüdisches Museum Berlin |
| 2003 | Segelanweisung |
|             | Permanent Exhibition, Deutsches Technikmuseum Berlin |
Selected Awards
| | |
| --- | --- |
| 2011 | Sol |
|   | Annual Multimedia Award Gold |
|   | Die Pendel |
|   | iF communication design award |
| 2009 | Spheres ( aka Centralspace ) |
|   | Cannes Lion, Gold in Environmental Design |
|   | Clio Awards, Silver |
| 2008 | Copaxone |
|   | D&AD Annual, Book Entry |
| 2007 | Das neue Österreich |
|   | Annual Multimedia Wettbewerb |
|   | The Science of Aliens |
|   | Annual Multimedia Wettbewerb |
| 2006 | Art Directors Club Germany, Silber |
|   | Das neue Österreich |
|   | iF communication design award, Gold |
|   | red dot design award |
|   | Art Directors Club Germany, Bronze |
|   | Deutscher Multimedia Award, Shortlist |
|   | documenta mobil |
|   | Deutscher Multimedia Award |
|   | Art Directors Club Germany, Bronze |
|   | Annual Multimedia Wettbewerb |
| 2005 | iF communication design award |
|   | O2 Flagship Store |
|   | red dot design award |
|   | iF communication design award |
|   | Der BMW 1er – Technische Kommunikation |
|   | Deutscher Multimedia Award |
|   | Floating.Numbers |
|   | Art Directors Club Germany, Silber |
| 2004 | red dot design award |
|   | iF communication design award, Gold |
| 2002 | Coexistence |
|   | Winner Coexistence Award |
| 2001 | ME2 |
|             | Shortlist Browserday, Berlin |
Talks
| | |
| --- | --- |
| 2014 | Interaktion + Raum |
|   | at Resonate 2014, Belgrade, Serbia |
| 2013 | New Aesthetic of Data Visualization |
|   | at Big Data Viz, Copenhagen, Denmark |
| 2012 | Halbdinge |
|   | at Design Interaktiver Medien Program, Universität Wuppertal |
|   | at Rauchwolken und Luftschlösser. Temporary Räume, Bremen |
| 2011 | Virtual Augmented Physical What? |
|   | at This Happened (#1), Betahaus, Hamburg |
| 2010 | Räumlich Mediale Gestaltung |
|   | at Universität der Künste Berlin |
| 2009 | Well Behaved Interactive Media |
|   | at Copenhagen Institute of Interaction Design, Denmark |
| 2008 | It's More Fun to Compute |
|   | at Copenhagen Institute of Interaction Design, Denmark |
| 2007 | Well Behaved Interactive Media |
|   | at Innovationsforum Interaktionsdesign, FH Potsdam |
| 2006 | Responsive Media – Surface, Object, Subject |
|   | at College of Fine Arts Sydney, Australia |
|   | Aesthetics of Mapping |
|   | at Universität Heidelberg |
|   | Playfulness in Interactive Media |
|   | at Achtung Berlin Festival, Berlin |
| 2005 | Applied Computational Design |
|              | at Generator X Conference, Oslo, Norway |
Workshops + Teaching
2021
Introduction to Programming
 
Visiting Faculty at Copenhagen Institute of Interaction Design, Costa Rica
2019
Introduction to Programming
 
Visiting Faculty at Copenhagen Institute of Interaction Design, Denmark
2018
Performative Sound Machines
 
Visiting Faculty at Copenhagen Institute of Interaction Design, Denmark
2017
Klangmaschinen und Netzwerkkompositionen
 
Visiting Faculty at Copenhagen Institute of Interaction Design, Denmark
2016
Musik aus Strom
 
Visiting Faculty at Copenhagen Institute of Interaction Design, Denmark
2015
Exquisit Data Corpse
 
Visiting Faculty at Copenhagen Institute of Interaction Design, Denmark
2014
In a World of a Million Sensors - Interactive Spaces
 
Visiting Faculty at Copenhagen Institute of Interaction Design, Denmark
2013
Berechnete Schöneheiten - An Introduction to Programming
 
Visiting Faculty at Copenhagen Institute of Interaction Design, Denmark
2012
Generative Design - Data Flow Objects
 
Visiting Faculty at Copenhagen Institute of Interaction Design, Denmark
2011
The Aesthics of Generative Design
 
Visiting Faculty at Copenhagen Institute of Interaction Design, Denmark
2009
Computational Design Workshop
 
Visiting Faculty at Copenhagen Institute of Interaction Design, Denmark
2008
Visiting Faculty at Copenhagen Institute of Interaction Design, Denmark
2007
Input, Output and Things in Between
 
Workshop at HfG Karlsruhe
2006
Workshop at UNSW College of Fine Arts, Sydney, Australia
 
Workshop at Universität der Künste Berlin
2005
The Network Workshop
 
Workshop at Universität der Künste Berlin
 
Tools for Computational Design
 
Workshop at FH Potsdam
           
 
2010
Appointed Professor for Interaktion und Raum in the Digitale Medien Program
at Hochschule für Künste Bremen
2009
Lecturer at Hochschule für Künste Bremen
2004 – 2007
Lecturer in Digitale Klasse at Universität der Künste Berlin